I was recently at my mom's house having a coffee, and going through my grandmother's recipes when I came across a recipe for Kufte Sikh. "What's this?" I asked. "It's the long kufte with mint in it" she replied. All of a sudden memories came rushing back. I loved Kufte Sikh! and I haven't had it in well over 25 years. It was one of my favorite foods to eat as a child, I can clearly remember coming home for lunch everyday while in elementary school and my grandmother would prepare lunch for me as I watched the Flintstones. Kufteh Sikh was definitely one of my favorites.
I asked my mother what "sikh" meant and shoe told me it was the arabic word for skewer. Why a skewer? Nevertheless I made a few adjustments such as using oridnary ground beef instead of the habra (will be discussed in a leter post) which is typically used for kuftehs. And it turned out great. Kufteh Sikh will be a regular in our household for years to come. And yes it's kid tested. They just gobble these up.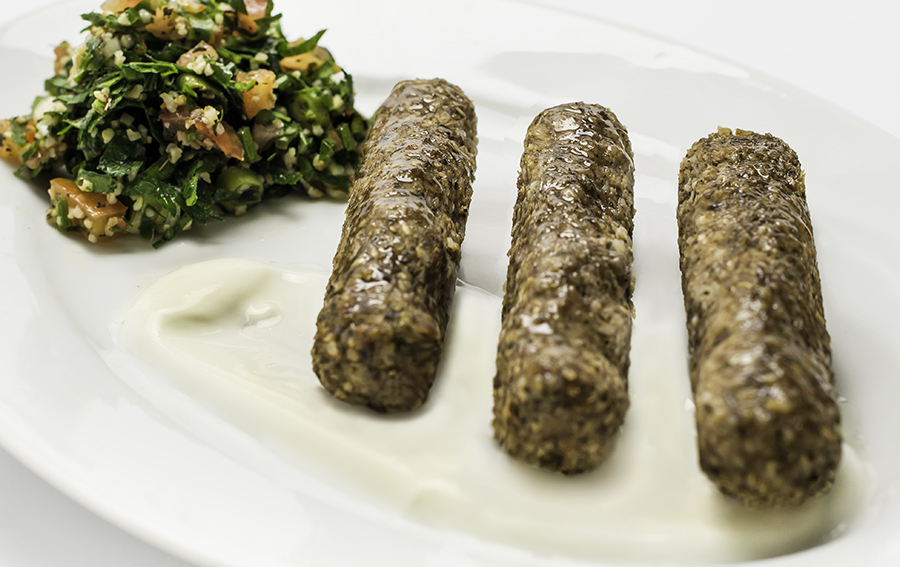 Kufteh Sikh

Ingredients:
1 lb extra lean ground beef
1 cup bulghor (fine)
2 tbsp crushed dried mint leaves
1 tsp salt
1/2 tsp black pepper
1/2 tsp allspice
1 tsp Aleppo pepper
1 1/2 cups water
3 tbsp vegetable oil
Directions:
Soak the bulghor in 1 cup water for 10 minutes.
In a mixing bowl add the meat, all the spices, the soaked bulghor and 1/4 cup water. Knead for 5 to 10 minutes until well combined. I prefer kneading the ingredients with a stand mixer, makes things much easier. Add a little more water if you find the mixture too dry.
Take a piece of meat the size of a walnut and shape into a sausage/hot dog shape, dipping hands in water to avoid sticking.
Arrange the kuftehs on a baking tray greased with 3 tbsp oil or so. Coat the kuftes lightly rolling them in the tray. Bake for 15 minutes at 400 then loosely sprinkle 1/4 cup water over the kuftes with your hands and bake for an additional 5-10 minutes.
Serve immediately with yogurt for dipping and a side salad like Tabouleh.
These kuftehs can be easily frozen before or after they have been cooked. Makes for an easy meal or snack.
JD