Kahke is an Armenian pastry, cookie, biscuit which is sometimes savory and sometime sweet. There are many recipes floating around but thought I would share one of my favorites handed down from my tante Salpi in California. Note, this is a non sweetened kahke which go great with a home made or store bought halloum cheese, ill be demonstrating the home made procedure in the coming weeks.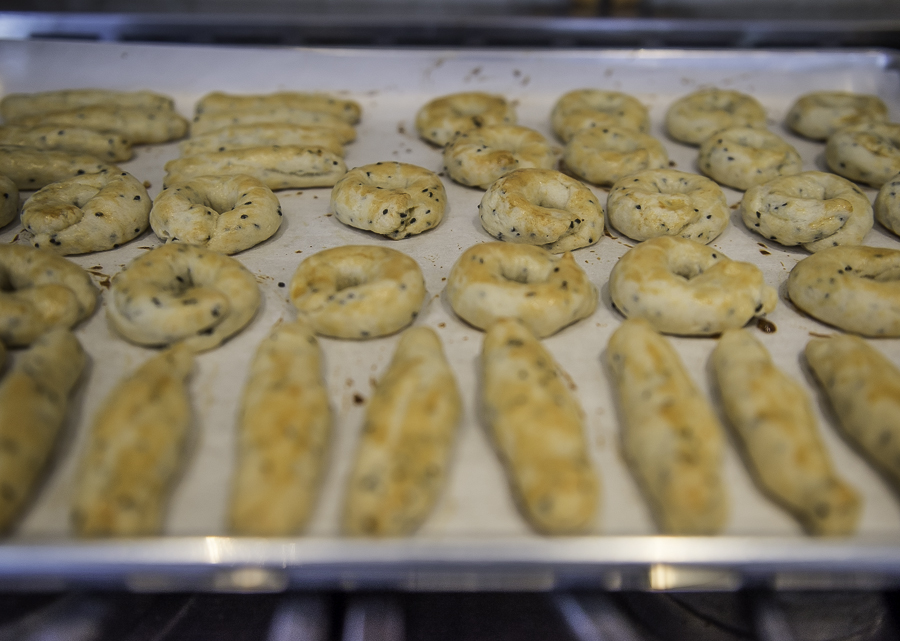 Tante Salpi's Kahke
6 cups – flour
1 cup – water
1 cup – melted butter
1 cup – Mazola (canola) oil
1 tsp – mahlab
1 tsp – salt
1/4 cup – kolongi seeds (sevagendig)
2 1/2 tsp – baking powder
2 tbsp – Arak
Sift the dry ingredients into mixing bowl and with hook attachment add the wet ingredients and mix until the dough forms a ball, it should take a couple minutes.
Let rest for 10 to 15 minutes.
Take about a inch sized ball in your hands, roll and form into fingers, circles or braids.
Egg wash: 1 egg yolk + 1 tsp. milk
Bake in 350 oven for 25-35 minutes or until the tops start to turn a light golden colour.
All the ingredients should be readily available these days. The mahlab and konongi seeds can be purchased at a middle eastern grocery. Arak should be readily available in liquor stores.
Mahlab is an aromatic spice made from the seeds of a species of cherry)
Kolongi Seed (Nigella sativa) also known as sevgendig, fennel flower, nutmeg flower, black caraway, Roman coriander, and also called black cumin.
Arak is a middle eastern, anis flavoured alcoholic spirit.
Enjoy and let me know how you did.