History: Armenian Manteh or Manti is believed to have originated in China as mantou, and was carried across Central Asia to Anatolia by migrating Mongol peoples in the 13th century. Researchers that manti first reached Cilician Armenia and specifically Aintab, (the town of my great grand parents) as a result of the cultural interaction between Armenians and Mongols during their alliance in this period.
A bit time consuming but once you have tried it you'll be going back to this recipe time and time again. Get some help and make large quantities, the store them properly in the freezer for a quick and tasty supper. It should be noted that im preparing this recipe the way I prefer it, ill refer to the traditional recipe in brackets.
Dough or outer shell
2 large eggs
1/3 cup water
½ tsp salt
2 cups flour
Meat stuffing
½ lb lean or extra lean ground beef, (traditional recipe calls for lean ground lamb)
1/3 cup (1 medium) finely chopped onion
¼ tsp salt
¼ tsp black pepper
mix together in a bowl
Broth
2 cups chicken broth
½ tbsp tomato paste
¼ tsp black pepper to taste
Bring to boil
For the dough, beat the eggs and stir in water and salt, blend in flour and knead on a lightly floured surface until smooth.
Shape into a ball and let stand in a covered bowl for 1-2 hours.
Roll out the dough on a floured surface to an approximate  30"x14" rectangle or about 1/16" think. I then use a pizza cutting wheel to cut the rolled out dough into 1 ¼" – 1 ½" squares.
Place approx ½" – ¾' of the meat mixture in the center of each square. Lightly dab a bit of water to the edge s of the squares and fold each into a canoe shape by pinching opposite corners together.

Grease 9″ x 14" or 12″ round pan with butter and arrange the manti as pictured below.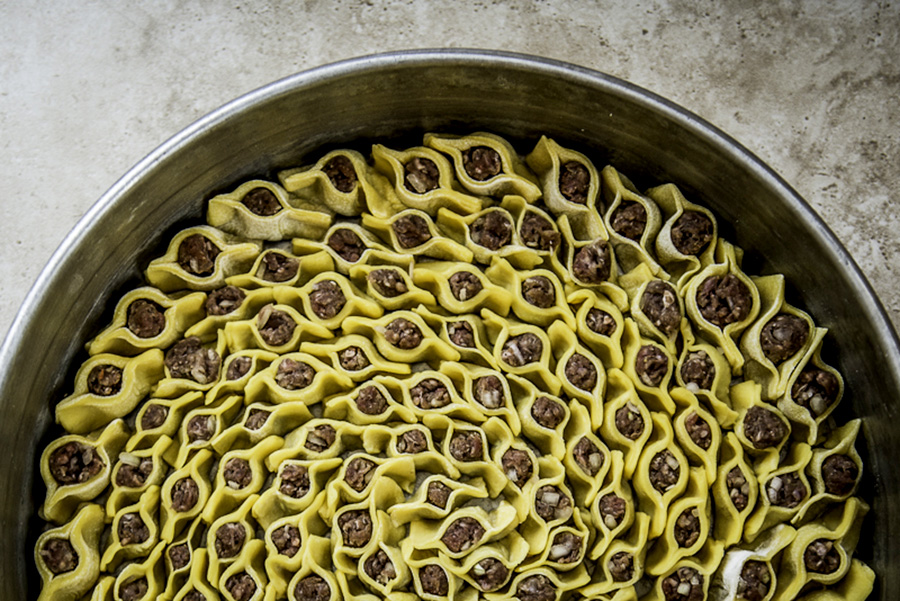 Bake at 350 for 45 – 55 minutes until light brown.
(traditional variation – bake for 30 minutes, cover the manti completely with 3 cups of chicken broth, then bake for an additional 25 minutes – I personally prefer not to add the broth and enjoy a crunchier shell)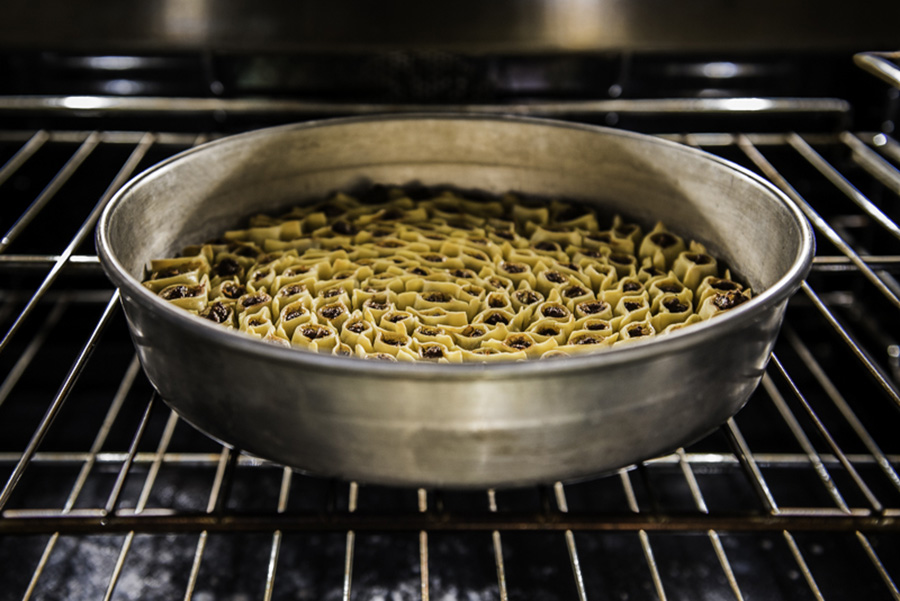 Add a healthy portion to a bowl and add the hot broth as shown, top it off with a dollop of yogurt and a sprinkled seasoning of sumac. Enjoy, your tummy will love you.


(some people prefer to mix in garlic with their yogurt, I prefer not to)